KIDS DENTIST INDOOROOPILLY
CHILDREN'S DENTAL CARE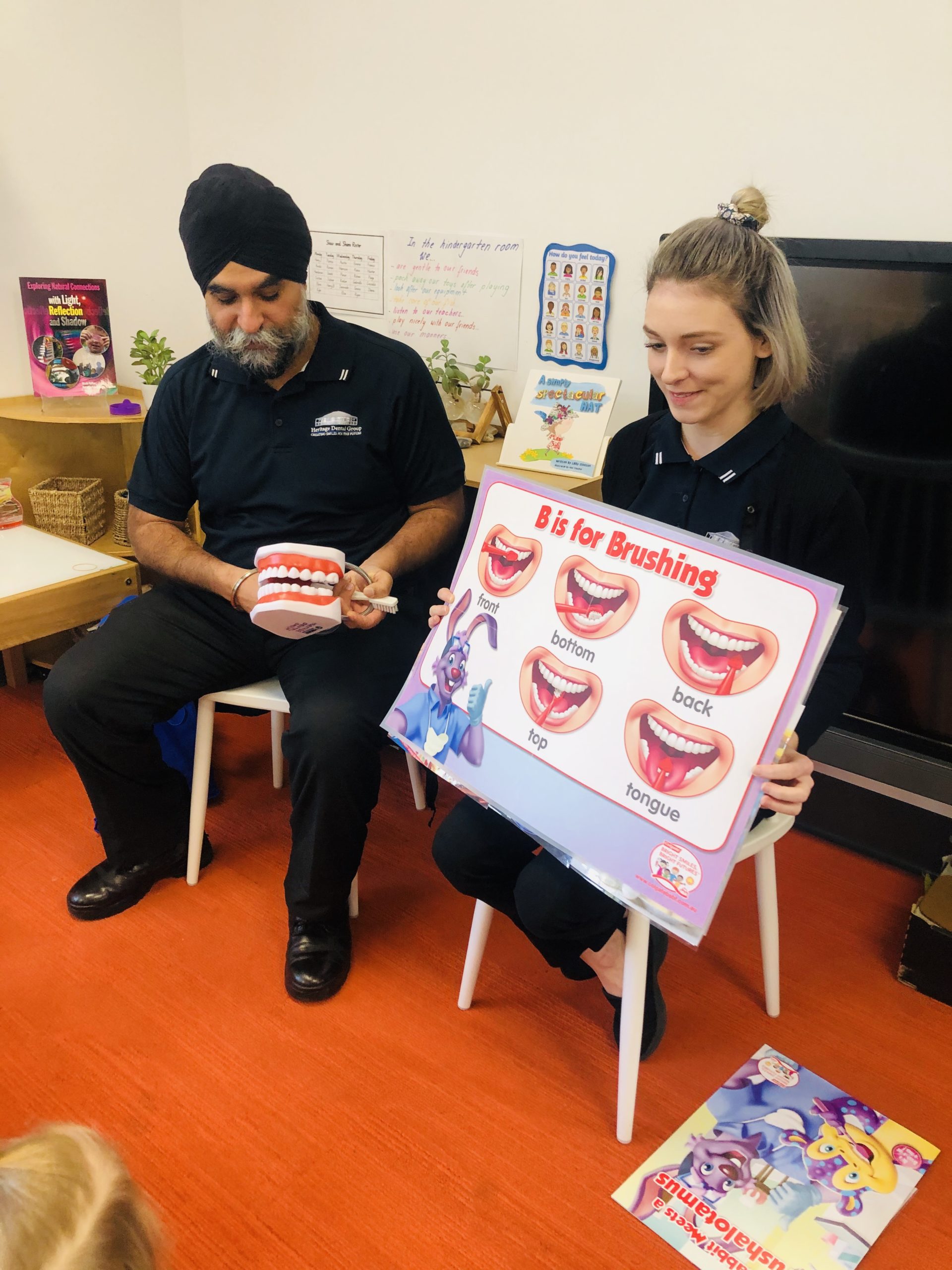 Our experienced dentists and dental team at Heritage Dental Group in Indooroopilly is committed to caring for children's dental health from an early age. Give your child a healthy smile by teaching and training them in proper oral hygiene and seeing your dentist regularly.
Our team understands how important a great smile is for a child's overall health and confidence. We are passionate about educating children from an early age about the advantages of looking after their teeth and gums.
Staring early and having great local dentist to help your children develop proper oral habits can lead to lifetime happy healthy cavity free smiles.
At Heritage Dental Group, our gentle dentists take special care in encouraging and training children in good oral hygiene routine. Our gentle and caring dental team try to make children's dental visit comfortable and informative for both kids and parents.
Dr Singh recommends 6-12 monthly dental check-ups for all age children.
We aim at providing fun-filled dental education and dental treatments.
We BULK-BILL dental treatment for eligible children under Medicare Child Dental Benefit schedule. Contact our team on 38783384 or use the contact form below to check your child's eligibility for Medicare.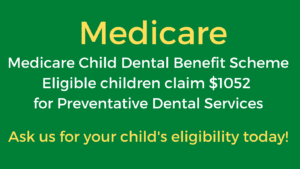 ---
PREVENTATIVE FISSURE SEALANTS
Fissure sealants are a safe and painless way of protecting your children's teeth from tooth decay. It is a plastic coating which covers the chewing surfaces of the back adult teeth. The sealant forms a hard shield that keeps food and bacteria from getting into the tiny grooves in the teeth. Contact our dental team today to ask about this procedure and to schedule your next dental visit. Our dentist will explain if your child needs fissure sealants, why they need it and how much it costs.
---
DIET AND DENTAL DECAY
Dental decay can be prevented with proper brushing and flossing techniques and choosing healthy foods and avoiding sweet acidic foods and drinks. The dentist will clean your child's teeth to get rid of the plaque buildup. Dentist will also discuss your children's diet with you to make sure diet is not affecting teeth. Dentist will also suggest some healthy teeth tips to keep your child's oral health on track.
---
DENTAL ANXIETY
Our team understands not everyone likes visiting the dentist. We work hard towards making your child's dental experience comfortable and educative. If you think your child is anxious about visiting the dentist, talk to our friendly reception staff before bringing your child in, our team will work together towards a caring, relaxed dental experience with minimum stress. As a local community dentist, we are always here to help you and your family gain healthy oral health.
---
PREVENTATIVE CARE
At Heritage Dental Group, our dental staff is passionate about preventing and protective oral health issues through preventative dental care in children. Preventive dental checkups are an important part of your child's dental health. Along with good oral hygiene brushing teeth twice a day and flossing, Dr Singh recommends six monthly dental checkups and a professional clean.
---
TIPS FOR PARENTS TO PREVENT TOOTH DECAY IN CHILDREN
Brush your child's teeth twice a day, after breakfast and before bed
Brush with fluoride toothpaste (use low-fluoride toothpaste for kids aged 18 months to 6 years)
Make tap water your child's usual drink.
Floss at least once a day
Reduce the amount of sugar children consume in foods and drinks and check food labels for added sugars
Children should see the dentist for a checkup at least once a year
---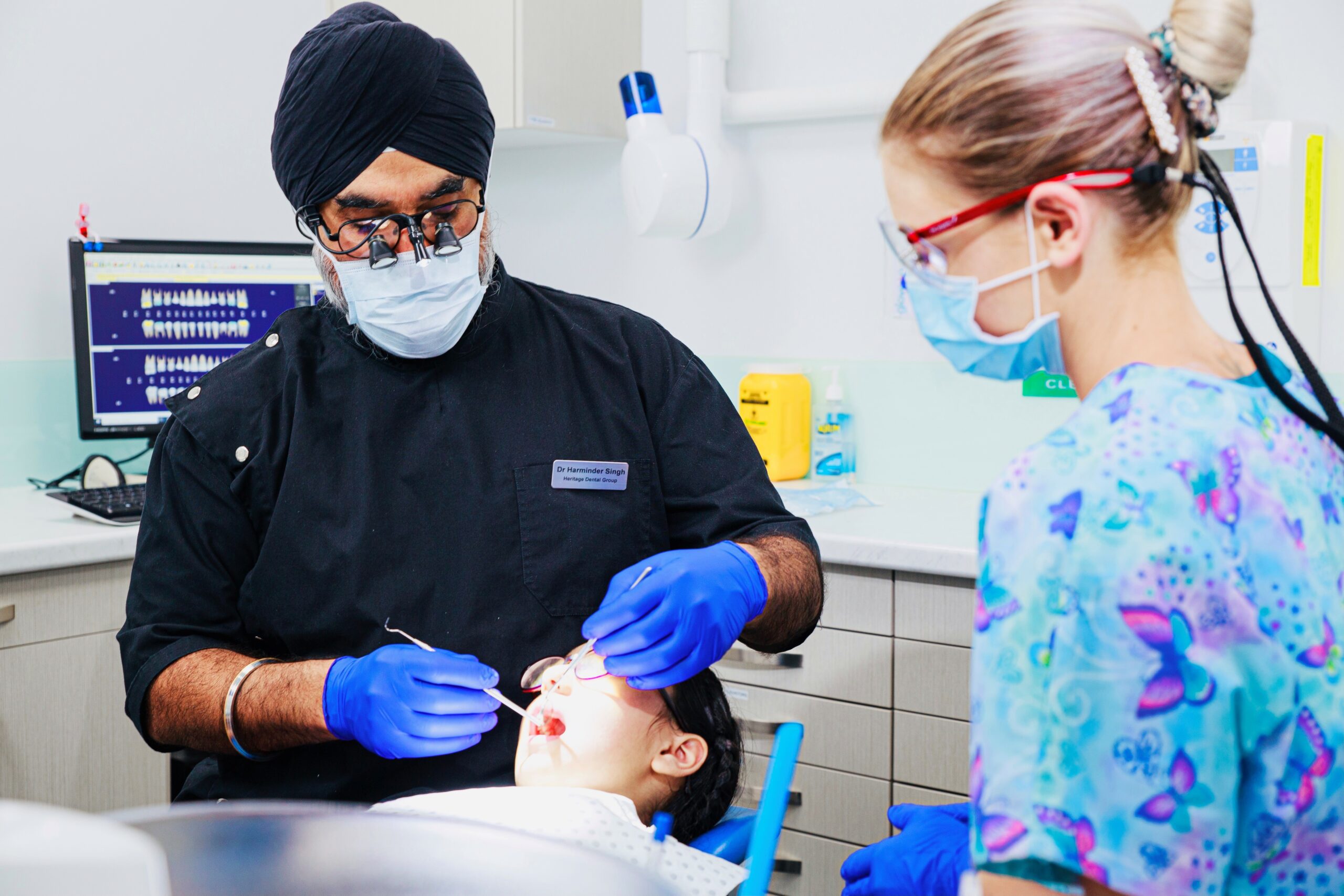 To encourage children and to maintain everyday oral hygiene routine, please print the following brushing and flossing chart to track brushing and flossing routine. You are also welcome to come and pick one from the Dental practice:
PRINT TOOTH BRUSHING AND FLOSSING CHART FOR KIDS HERE
When should my child first see the dentist?
Children's first dental visit at our practice
Why is it important to get my child's teeth checked regularly?
Dr Singh Recommends
What to avoid before child's dental visit
---
DENTAL CARE FOR CHILDREN: DENTAL TIPS FOR HEALTHY TEETH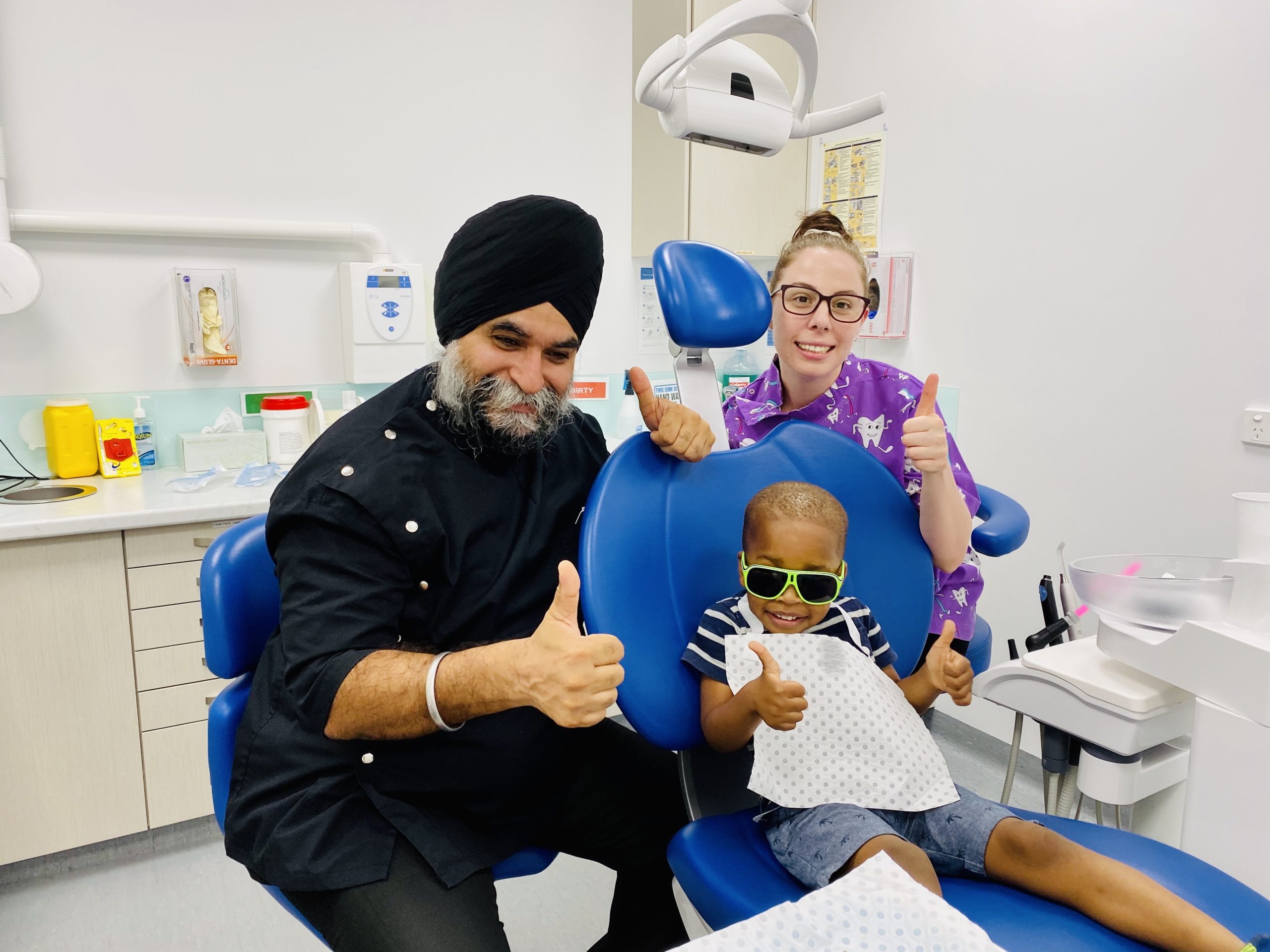 Healthy Eating – Cavity causing foods are those with a high sugar content. To reduce the risk of tooth decay it is important to reduce the total intake of sugary foods. Limiting the number of times sugars are eaten throughout the day.
Healthy Drinking – Children should drink plenty of plain tap water and limit the consumption of soft drinks, sports drinks, cordials and fruit juices, which generally have a high sugar content.

Brush Twice a Day

–

It is important for kids to clean their teeth at least twice a day with a gentle but thorough brushing action using a soft brush with a small head and fluoride toothpaste. Correct regular brushing will reduce plaque build-up and tooth decay and help maintain healthy gums and teeth. Up to age eight, kids will need assistance to brush correctly. Most children lack the manual dexterity to brush correctly before eight years of age.

Floss Daily

– Children should floss between their teeth every day to remove food and plaque from the spaces between teeth where their toothbrush may not be able to reach and clean. An adult supervision and assistance are highly recommended to ensure that kids adopt a daily flossing routine.
Visit Your Dentist Regularly – It is recommended that from age three, children visit the dentist every six months for a thorough check-up. Regular dental check-ups from an early age reinforce good dental care and assist in reducing the need for fillings in the future.
Wear a Mouth Guard For Sport – It is important to play safe in all sports by protecting children's teeth with a custom-made, professionally fitted mouth guard. Mouth guards are available in a range of colours (even team colours) from your dentist. Mouthgurads should always be worn when training and playing sport to minimise the risk of dental injury.
---
WE PROVIDE FOLLOWING COMPREHENSIVE RANGE OF DENTAL SERVICES FOR CHILDREN
We see all age kids at Heritage Dental Group. Dental treatment and procedures are age and requirement based. We have solution for all type of general dental services for children. The most common children's dental services or treatments are:
General dental check-ups and clean

Fluoride treatment

Oral hygiene instructions

Treatment of dental decay

Tooth coloured white fillings

Tooth extraction

Dental Fissure Sealants

Dental Mouthguards

Orthodontic appliances
---
Read our blog post here on how to make your child's dental visit comfortable?
Check out Dr Singh's Video –
Why bother filling baby teeth?
If you need more information on your child's dental health or need to enquire if your child is eligible for Medicare child dental benefit scheme, please contact our team at Heritage Dental Group on 07 38783384 or use the enquiry form below and we will get back to you asap. Thankyou
References:
Visit Australian Dental Association website for more resources and information on Dental Health.
https://www.healthdirect.gov.au/dental-care-for-children
https://www.ada.org.au/Your-Dental-Health/Children-0-11
https://www.ada.org.au/Your-Dental-Health/Teens-12-17
CHILDREN'S DENTIST INDOOROOPILLY
WE PROMISE," A GENTLE CARING DENTAL EXPERIENCE."