Dental Care in Indooroopilly (Brisbane Western Suburbs)

GENTLE DENTAL CARE
Are you looking for dental care in Indooroopilly? We offer all types of General dentistry, Cosmetic dentistry, Emergency dental services and children's dental services in Indooroopilly. General dentistry covers a comprehensive range of dental services like check-up, clean, same day crowns, fillings, tooth extractions, fissure sealants, Wisdom teeth, root canal treatment etc. Our dentist will check your teeth on your regular visits to detect and treat dental decay or gum-disease. Your dental health affects your overall health and well-being.
Our dentists always encourage you to keep your regular dental visits. These visits are important in detecting any dental problem before they get worse.
Our friendly caring team will make your dental visit less stressful, relaxing, and comfortable. Our dentist and dental team will work closely with you to gain a healthy bright smile.
Our experienced dentists provide personalized dental care to each and every patient. We understand visiting the dentist sometimes is a stressful experience for some people but trust us we treat every patient with care and respect.
Booking your Dental Appointment at Heritage Dental Group Indooroopilly
You can contact us during our dental clinic opening hours to schedule your appointment on 07 38783384 or Book Online anytime anywhere on our website.
We will send you an SMS reminder to confirm your dental appointment, please confirm with return SMS.
YOUR FIRST DENTAL VISIT TO HERITAGE DENTAL GROUP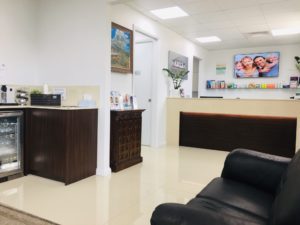 After booking your dental appointment, the first time you walk into our dental practice on Moggill Road, you will feel the difference, the calm and peaceful environment and friendly, right at home feeling. Our staff will warmly welcome you, talk you through the dental history forms, check your previous dental history and get to know you well so that we can tailor the right dental experience for you.
Dentist will do a comprehensive examination, discuss your concerns, your current dental concerns or problems, different options, treatment plan and a quote for the work required.
Our dentists at Heritage Dental Group never rush when it comes to discussing and making right decisions.
We have invested in the cutting-edge dental technology and latest dental equipment to make your dental treatment comfortable and relaxing.
Our team will work together to provide you the best dental care possible in Indooroopilly. Our team always try to take you in with little or no waiting. We have water, television and wi-fi available in the waiting area.
Are you anxious about your dental appointment?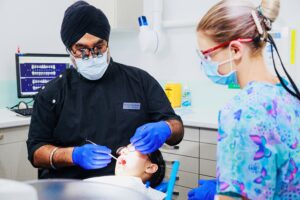 At the Heritage Dental Group, we understand that some patients are nervous about dental and dental work. Please call our friendly receptionist and let them know how you feel about your dental visit. Our team will work together to make your dental visit relaxing and comfortable and use ways to reduce your dental anxiety.
Why should you see your dentist regularly?
Our dentists always like to see patients 6-12 monthly. Even if you are not experiencing any dental problems, it is worthwhile to see your dentist. Your dentist can detect dental problems right at the start and prevent it with easy non-invasive treatments. These regular dental visits can save you from dental emergency, pain, and discomfort. Dental problems treated on time are less expensive, quicker and save you from unnecessary pain or discomfort.
DENTAL CHECK-UP, CLEAN, FLUORIDE AND X-RAYS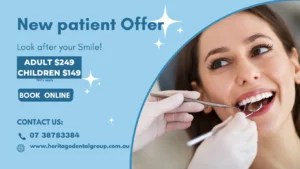 At the Heritage Dental Group Indooroopilly, we are dedicated to promoting good dental health to both children and adults, so they have the best chance to achieve a beautiful, healthy smile for life. Regular dental check-ups can prevent the need for major dental work, minimally invasive dental treatment and cost effective than allowing problems to go on undetected. See one of our gentle dentists.
EMS AIRFLOW TEETH CLEANING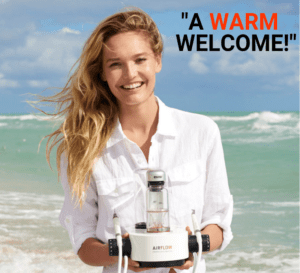 EMS airflow is a gentle minimally invasive treatment which uses air and water to clean plaque and stains from your teeth. Due for a clean? Come and try EMS airflow teeth cleaning, cutting edge dental technology to make your dental cleaning experience more efficient and comfortable.
CHILDREN'S DENTIST INDOOROOPILLY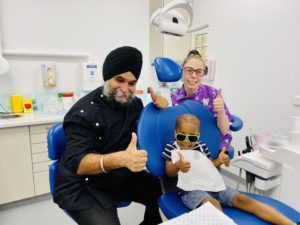 We provide children's dental services at Heritage Dental Group as well. Starting kids early is the key to maintaining healthy cavity free oral health. We encourage parents to bring their children regularly to see the dentist. If your child is eligible under Medicare Child Dental Benefits Schedule, we bulk bill the dental treatment. 
INDOOROOPILLY EMERGENCY DENTIST
Do you need an emergency dentist in Indooroopilly? At Heritage Dental Group, dental emergencies are our priority, we always have emergency appointments available during our opening hours. Our friendly team will try to get to you in to see a dentist as soon as possible. We understand dental emergency is not a pleasant experience, but we assure you that all our team members will go above and beyond to help you and provide comfortable dental experience.
We always keep some appointments for dental emergencies if you need our Indooroopilly emergency dentist. If you are facing dental emergency, toothache, or tooth pain, please contact our team on 07 38783384 or just walk into our dental clinic on Moggill Road in our opening hours.
SAME DAY CROWNS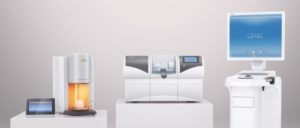 Do you need a crown? We now make CEREC CAD CAM same day one appointment crowns at Heritage Dental Group. This new cutting-edge technology allows the dentist to customize the crown, prepare, digitally scan your teeth, design and prepare Infront of your eyes. No more temporary crowns or waiting for two weeks. Our same day crown service is precise and efficient.
ZOOM TEETH WHITENING INDOOROOPILLY – Whiter Brighter Smile
Get Up to 6-8 Shades Whiter in just 60 minutes!  Our experienced dentists at Heritage Dental Group provide a full range of Teeth Whitening treatments like in chair Zoom teeth whitening $550 and take-home custom-made teeth whitening kits.
Professional Dental teeth whitening under experienced dental professional is one of the most effective methods in achieving a bright beautiful, healthy smile. We often get asked, why I should see my dentist for teeth whitening? Well, your dentist knows your teeth better. Your professional dentist can do your teeth whitening in more effective and safer way after analyzing your teeth and gum condition. Only Dental practices are authorized to use the high concentrate of teeth whitening products under experienced dental professionals. Our teeth whitening treatments options from TGA approved reputable from trusted manufacturers.
DENTAL PAYMENT PLANS
Dental Payment Plans we offer – After pay, ZIPAPY and National Dental Plan
You can use dental payment plans for general dentistry, cosmetic dentistry, teeth whitening, crowns and veneers and most other dental procedures.
GET IN TOUCH WITH OUR TEAM AT HERITAGE DENTAL GROUP ON 07 38783384.
We provide Dental Services in areas including– Indooroopilly, Chapel Hill, Toowong, Corinda, St Lucia, Bardon, Auchenflower, Pullenvale, Milton, Kenmore, Kenmore Hills, Sherwood, Mt Ommaney, Jindalee, West Brisbane, Graceville, Chelmer, Brookfield, Taringa, Jindalee, and all surrounding Brisbane Western suburb areas.