DENTAL FILLINGS at your INDOOROOPILLY DENTIST
White tooth-coloured fillings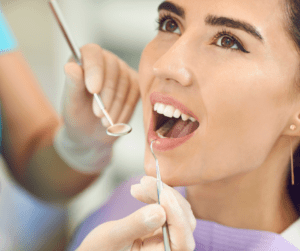 Tooth coloured fillings may be required if you have lost part of a tooth due to dental decay or cavities or broken a tooth or filling. Our experienced dentists at Heritage Dental Group Indooroopilly provide several treatment options like composite resin, glass ionomer cements GIC or ceramic fillings.
Dental decay if left untreated can end up in more dental work like root canal treatment. See our dentist immediately if you feel your tooth is broken, chipped or start feeling discomfort or sensitivity due to decay. Treating dental decay is vital for your oral and overall health. Our team at Heritage Dental Group Indooroopilly offers simple, minimally invasive and affordable dental treatment options. We also discuss oral hygiene techniques to follow every day to prevent dental decay and keep your teeth healthy for life.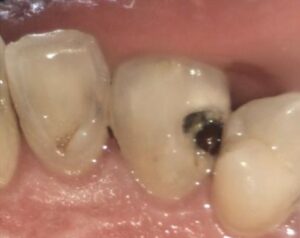 Dental fillings are used to fill or replace a hole or cavity in the tooth structure. Damage to tooth structure can be due to cavities, accidental hits or wear over time. Your dentist will take x-rays of the teeth to check their structure. Dentist will also take pictures to show you the condition of your teeth and discuss treatment options.
If dental decay or broken teeth are not treated on time, it can spread through the hard enamel shell and can damage the nerve that's when you will start feeling pain, sensitivity to hot and cold, abscess or infection. In this case your dentist will suggest several options to save your tooth like doing a root canal treatment, taking the tooth out if it is beyond repair. Some badly decayed or damaged teeth can be fixed by putting a crown on them.
Sometimes people don't feel any pain or discomfort and tooth decay may go unnoticed. We always recommend seeing the dentist every 6-12 months to keep your teeth and gums healthy. Our dentists at Heritage dental Group Indooroopilly are always here to help you maintain a healthy smile for life.
DIFFERENT TYPE OF TOOH FILLINGS
Each of these filling material types have their own advantages and limitations. Your dental professional will decide and discuss which type of material is best for your tooth situation and condition.
Composite resin fillings
Composite is a white tooth coloured filling material. Your dentist will be able to match the colour of your filling to your existing natural tooth. You may not be able notice the filling in your tooth if it is well matched. These fillings are glued to the surface of the tooth which is called bonding.
Glass-ionomer cement
These type of fillings are used on baby teeth and in the areas where there is less biting force. These fillings are also used in patient with many decayed teeth, this material helps reduce decay around fillings as it releases fluoride. These are not as strong as the composite resin filling material.
Gold and Porcelain fillings
Gold and porcelain fillings are longer lasting than any other fillings. They are a bit more expensive but last a long time. Porcelain fillings can be matched to your tooth colour. Gold and porcelain fillings are made outside your mouth. Your dentist will prepare your tooth and then take a 3D scan to make it at the premises. Gold ones take two appointments as we send them to the lab but all other fillings are made on premises by our experienced dentists. The dentist will also discuss inlays or onlays as an option where large part of natural tooth is lost.
Amalgam fillings
We do not use Amalgam fillings at Heritage Dental Group. Amalgam is a silver-coloured filling and can discolour teeth over time. Amalgam fillings are a mixture of metals like silver, copper, mercury, and zinc. It is a very strong filling material. Amalgam is less commonly used these days.
Temporary fillings
Temporary fillings are used where treatment is ongoing or there is not enough time to complete the treatment. Dentist will use this while doing root canal treatment or internal tooth bleaching. This is a short-term temporary filling.
Fissure Sealants
Your dentist will use fissure sealants to fill the grooves on the biting surfaces of your back teeth. Fissure sealants can prevent decay and food from sticking in the grooves of teeth. A fissure sealants is a thin layer of dental filling material which is placed in the fissures or grooves of your teeth. Without fissure sealants food and bacteria trapped in these grooves can develop decay over time.
WHAT ARE THE ADVANTAGES OF WHITE TOOTH COLOURED FILLINGS?
White tooth-coloured fillings look natural
These advanced filling materials are considered healthier and long lasting then traditional amalgam fillings
Advanced dental filling materials adhere to teeth easily and require less drilling of your natural tooth
WHAT ARE THE ALTERNATIVES TO DENTAL FILLING?
Your dentist will suggest a dental crown depending on the damage to the natural tooth structure. A dental crown is made of porcelain or zirconia or gold and fits over the tooth to protect the tooth structure. We offer custom made same day one appointment crowns at Heritage Dental Group Indooroopilly with CEREC CADCAM technology.
WHAT TO EXPECT AFTER YOUR FILLING PROCEDURE?
You might get post-operative sensitivity. Tooth sensitivity should go away in 1-2 days but sometimes can take up to 1-2 weeks. Your dentist will numb the tooth with local anaesthetic to work on it. You may feel a little bit of discomfort, gum sensitivity for a short time after the filling is done. You can maintain and extend the life of fillings with good oral hygiene and regular dental visits. Your dentist will check all your fillings at your preventative dental appointments.
HOW LONG DOES A TOOTH FILLING PROCEDURE TAKE?
Filling procedure can take anywhere from 45 minutes to one hour depending on the size of filling, location of tooth in the mouth and type of filling your dentist is performing.
CAN I EAT AFTER THE FILLING TREATMENT?
Your dentist will ask you to avoid food for at least 1-2 hours. Your dental professional will also suggest being careful as your mouth will be numb with local anaesthetic. Avoid eating or drinking until you can again feel your lip, tongue and inside of your mouth.
HOW MUCH DO FILLINGS COST?
Filling cost depends on the type and size of the filling. Our dentists at Heritage Dental group will provide you with complete treatment plan cost before starting the work.
HOW LONG DO THE FILLINGS LAST?
Filling can last anywhere from 5-15 years. Life of a filling largely depends on the type of material used, daily oral hygiene, eating habits and regular maintenance visits to the dentist. Fillings can change colour over time.
HOW TO AVOID DENTAL FILLING?
Your natural tooth structure is stronger than the filled tooth. Take following steps to avoid fillings:
You can save your teeth from tooth decay with daily oral hygiene routine, brush your teeth twice a day with a fluoride toothpaste, clean in-between your teeth with floss or interdental brushes at least once a day.
See your dentist regularly 6-12 monthly as decay or dental problems detected early can save you from unnecessary invasive dental treatments.
Choose tap water over sweet acidic drinks.
Consume nutritious diet and avoid frequent snacking.
Wear mouthguard while playing contact sports.
If you suspect chip or crack in the tooth, see your dentist immediately. Do not leave till it hurts.
Ask your dental professional how often (usually 6-12 months) you need to visit the dental practice for optimum oral health.
At Heritage Dental Group, we do not use amalgam fillings. We provide fillings which blend with your teeth and smile completely, and you can't tell the difference. Our experienced dentists at Heritage Dental Group are committed to providing the best dental care to our patients.
Tooth decay is the common problem in adults and children. See your dentist regularly to detect any sign of early decay and take steps to prevent them.
Look after your smile with the help and advise from our experienced gentle Indooroopilly dentists.
Need more information on dental treatment? Get in touch with our team at Heritage Dental Group on 38783384.
We promise, "A gentle caring dental experience."