INLAYS AND ONLAYS – RESTORATIVE DENTISTRY
At Heritage Dental Group, we offer inlays and onlays to our patients as one of the options to repair teeth. With the latest CEREC CAD CAM technology, our dentists can make inlays and onlays onsite on the same day. Our experienced dentists at Heritage Dental Group are always here to save your natural tooth by doing minimally invasive dental work which will help your teeth last longer.
WHO NEEDS DENTAL INLAY OR ONLAY?
Your dentist will recommend restoring your tooth with an inlay or onlay if your tooth is accidentally fractured, decayed, or broken. Inlay and onlay are similar to fillings but they are stronger and more durable. Dentist will make the inlay or onlay out of porcelain or a composite material and it will fit directly on to your tooth and is glued in place. Dental crowns are another alternative to broken damaged tooth. We also offer same day porcelain and zirconia crowns at Heritage Dental Group.
Dental Inlay will sit in the tooth while dental onlay is placed on or over the tooth. These are designed to be used on your molar or premolar teeth where the forces of chewing and grinding are high.
DENTAL INLAY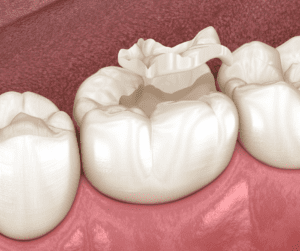 Inlay usually covers the area between the cusps on your teeth. Dentist will make it fit perfectly to the area of your teeth to prevent any food and bacteria from getting under the filling.
DENTAL ONLAY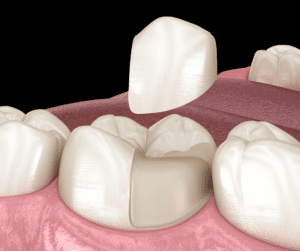 Onlays are placed over the tooth and are partial crowns. They may cover one or more cusps of your tooth surface. Usually, an onlay is required to cover more area then an inlay and less area than a crown.  Your Dentist at Heritage Dental Group may use porcelain, composite resin or even gold. Your dentist will bond the onlay to your tooth. Onlay protects your tooth structure from biting and grinding forces.
Difference between inlay onlays and fillings?
Inlays and onlays are made from stronger material so they are practically more durable and good for long term health of your teeth.
Inalys and onlays can last up to 20 years while composite fillings last 5-7 years
Inlays and onlays are custom made out of the mouth and fit perfectly on to the tooth whereas filling are done directly and are not as strong or long lasting.
Fillings take less time but inlays or onlays can take double the time as manufacturing is done onsite.
CARING FOR YOUR INLAY AND ONLAY
Practice routine oral hygiene routine, brush twice day, clean in-between your teeth and see your dentist regularly for check-up and cleans. No special care is required for your inlay or onlay work.
INLAYS AND ONLAYS AT YOUR INDOOROOPILLY DENTIST
If your filling or tooth is broken or you have toothache, schedule your dental appointment at Heritage Dental Group. Our dentists will examine your teeth, take x-rays and discuss the best option with you. At Heritage Dental Group, we make inlays and onlays on the same day in one appointment. The dentist will discuss the best personalized treatment options, cost and timeframe for your individual teeth. If you need more information, please do not hesitate to contact our lovely team.
CONTACT OUR TEAM 07 38783384 OR BOOK ONLINE.