WHAT IS A MOUTHGUARD?
A custom fitted mouthguard is a dental device made of flexible material to fit over your teeth.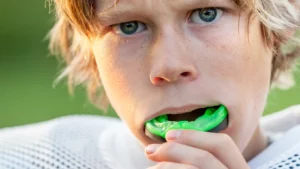 WHY I NEED A MOUTHGUARD?
Mouthguards absorbs the shock and lessens the force to your jaw and teeth. They not only protect your teeth but lips, cheek, and tongue too. A sports mouthguard is essential for the prevention of dental and facial injuries when playing contact sports. Mouthguards are highly recommended for children and adults doing martial arts, boxing, hockey, rugby, and football. Custom made devices provide more protection than buying one from off the shelf.
At Heritage Dental Group, we make mouthguards for adults and children.  Contact our team on 38783384 to book your appointment.
WHAT ARE THE ADVANTAGES OF CUSTOM-MADE MOUTHGUARDS?
Improved effect in reduction of injuries
You can choose colours
Durable if looked after properly.
Better fit as made for your teeth
TYPES OF MOUTHGUARDS AVAILABLE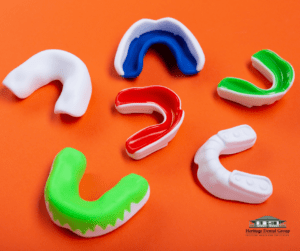 Custom-fitted Mouthguards
Custom fitted are made by your dental professional. They provide the best protection as these are made to fit your teeth and jaw and snuggle your teeth nicely.
Boil and bite Mouthguards
Boil and bite are self-fitted by immersing in the hot water and moulding it to your teeth. Usually these mouthguards don't fit properly, can be uncomfortable and can be loose.
HOW MUCH CUSTOM FITTED MOUTHGUARDS COST?
A custom fitted mouthguard at Heritage Dental Group costs $205.
HOW TO LOOK AFTER YOUR MOUTHGUARD?
A mouthguard should be rinsed with soapy warm water and let to dry before storing away.
Avoid using hot water as it can damage your mouthguard.
Always store your mouthguard in a plastic container which has vents to allow the circulation of air.
Remember to take it out of your car or sports bag as heat can change the shape of your mouthguard.
Always make sure your mouthguard is in good condition. Visit your dentist for regular check-ups and get it checked by your dentist. An adult, mouthguard can last a couple of years but with kids you need to replace it every 12-18 months. If you have dental work done like restorations, you might need a new one. If not fitting properly, always check with your dentist.
SPORTS MOUTHGUARD FOR KIDS
Your kids may need to replace their mouthguard every 12-18 months. Kids loose baby teeth and adult teeth erupt, this can change the fitting.
Always encourage kids to wear it, give them examples of their players and explain the benefits of wearing a mouthguard during contact sports and at training as well.
See one of our experienced Indooroopilly Dentists.
Contact our team on 38783384 for more information on Mouthguards.