SAME DAY DENTAL CROWNS INDOOROOPILLY
CEREC CAD CAM DENTAL CROWNS AND BRIDGES 
Don't waste time, Get your crown done in one appointment at Heritage Dental Group
WHAT IS A DENTAL CROWN?
Dental Crowns are a custom-made restoration which fits over the prepared existing natural tooth and replaces the natural crown, which is the part of the tooth that is visible above the gums.
Dental Crowns can be used for strength, durability and tooth stability, or for cosmetic reasons to enhance the appearance of a tooth. At Heritage Dental Group, our team offers CEREC same day crowns in one single visit giving you beautiful stronger smile. CEREC offers quick and durable tooth repair under dentist supervision. Your new crown is prepared, scanned, designed and completed in front of your eyes allowing dentist to make changes according to your individual needs.
Crowns are often required when a tooth has been severely weakened and is no longer structurally sound. This can be as a result of trauma, tooth decay, previous root canal therapy or even general wear over time. This cosmetic dental treatment can also be used to brighten and improve the appearance of your smile. Crowns can cover broken, chipped, stained or discoloured teeth by modifying the shape of a tooth.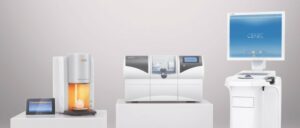 ---
WHY I NEED A DENTAL CROWN OR DENTAL BRIDGE?
WHAT IS A DENTAL BRIDGE?
A dental bridge fills a gap created by one or more missing teeth. A dental bridge is mounted onto your existing teeth or implants to fill the gap. If you are missing a tooth, there are couple of options to fill the gap like doing a dental bridge, implant or a partial denture. Our dentist will be able to explain all the options, cost of the treatment and time-frame.
DIFFERENT TYPES OF DENTAL BRIDGES:
WHAT HAPPENS IF I DON'T GET A DENTAL CROWN?
If dental crown is not placed on a tooth with a large restoration or the tooth which has had root canal treatment done in the past, you are taking the risk of major dental work or loss of tooth. If the tooth cracks, fracture can extends to the roots and you can easily loose your tooth or consequently require more extensive and expensive dental treatment.
WHAT'S INVOLVED IN CREATING SAME DAY DENTAL CROWNS?
Constructing a Dental crown generally requires one appointment at Heritage Dental Group Indooroopilly.
CEREC CADCAM DENTIST– One Visit or One Appointment Dentistry!
BENEFITS OF CEREC CAD CAM TECHNOLOGY
No unpleasant impression material
Cost effective for repairing teeth
Single Dental Visit/appointment- No multiple visits
Efficiency and Precision
No bothersome temporary restoration
CEREC uses stronger materials and techniques
BENEFITS OF SAME DAY CROWNS
Convenience: The biggest advantage of same-day crowns is that they can be designed, fabricated, and placed in a single appointment, eliminating the need for multiple visits to the dentist and reducing the amount of time needed for the dental procedure.
Comfort: Traditional crown procedures often require the placement of a temporary crown, which can be uncomfortable and may not fit well. With same-day crowns, there is no need for a temporary crown, reducing the discomfort and improving the fit of the final crown.
Improved Aesthetics: Same-day crowns are made from high-quality ceramic materials that can be customized to match the colour and shape of surrounding teeth, resulting in a natural-looking and esthetically pleasing restoration.
Better Oral Health: By restoring damaged or decayed teeth quickly, same-day crowns help to prevent further tooth damage and preserve oral health.
Increased Durability: Same-day crowns are made from high-quality materials that are designed to last for many years. With proper care and regular dental check-ups, same-day crowns can provide long-lasting results.
More Precise Fit: Same-day crowns are created using computer-aided design and manufacturing technology, which results in a precise fit that is customized to the patient's individual needs. This results in a better-fitting and more comfortable crown.
It's important to note that same-day crowns may not be appropriate for all patients and dental conditions, and a dentist should be consulted to determine the best option for an individual's needs.
HOW DOES CEREC CAD CAM WORK?
HOW TO LOOK AFTER YOUR CROWN?
HOW TO LOOK AFTER YOUR DENTAL BRIDGE?
HOW MUCH DENTAL CROWN OR DENTAL BRIDGE COSTS?
Dental crown cost from $1500-$1800 per tooth.
IS CEREC RESTORATION OR CROWN SAFE?
CEREC CAD CAM crowns and bridges done by an experienced dentist are safe. Same day crowns are durable, minimally invasive and save your tooth from further damage. Materials used by dentists have high bio-compatibility and are long lasting.
HOW LONG SAME DAY CEREC CROWNS LAST?
CEREC dental crowns last 10-15 years. It is really important to look after your CEREC crowns the same way you look after your natural teeth. Follow good oral hygiene and see your dentist regularly for regular dental checkups.
---
VIDEO – CEREC MILLING MACHINE IN ACTION
Contact our team at Heritage Dental Group Indooroopilly on 38783384 to book your appointment with Dr Singh.
WE PROMISE "A GENTLE CARING DENTAL EXPERIENCE."