ARE YOU GRINDING YOUR TEETH?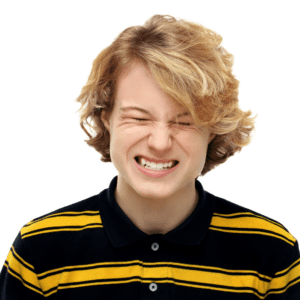 Bruxism is the grinding and clenching of teeth. Grinding or clenching your teeth can lead to worn out teeth, damage to teeth and painful jaw joints. Teeth grinding can occur during the day or at night-time while sleeping. Many people may not even be aware that they are grinding their teeth at night as while grinding the teeth during sleep, you have no conscious control. If you wake up with a sore jaw, sensitive teeth or headache, you may be grinding your teeth at night. See your dentist and medical professional to rule out any causes. Sometimes, mild bruxism does not require any treatment but if you are experiencing it more frequently, please seek help. If you or your child is grinding their teeth at night or day time, remember to discuss this with your dentist at the next dental appointment.
SYMPTOMS OF TEETH GRINDING OR BRUXISM
Headache
Sore jaw or ear pain
Sleep disruption
Teeth are flattened, chipped or fractured 
Multiple broken fillings
Tooth sensitivity
Jaw clenching
Temporomandibular disorders
CAUSES OF TEETH GRINDING OR BRUXISM
Stress and anxiety
Snoring
Obstructive sleep apnoea
Alcohol, smoking and caffeine
Medications including anti-depressants, antipsychotics, cocaine etc.
Teeth grinding is related to both physical and psychological stressors.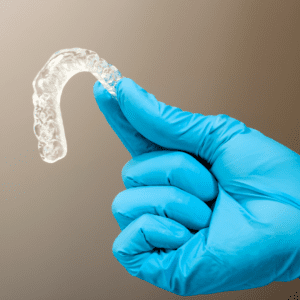 It is important to see your dentist and medical doctor to sort out solution as soon as possible. Your dentist will check the condition of your teeth and suggest appropriate ways to manage it. If your teeth are damaged (chipped, broken or worn down), your dentist will suggest doing fillings or crowns and then make an occlusal splint if required.  An occlusal splint is made from hard plastic which fits over your upper or lower teeth and helps protect your teeth from wear and damage caused by teeth grinding.
Teeth grinding or bruxism can be  linked to sleep apnoea. If your dentist sees any signs of sleep apnoea, he will suggest you to see your medical doctor to rule out the possible sleep apnoea condition.
One of the important step in managing bruxism is finding and removing the cause. Your dentist and medical doctor will try to check all the risk factors which are causing teeth grinding and suggest ways to manage it.
Your dentist can help in managing and diagnosing bruxism. If you are grinding your teeth, have a sore jaw, headache form teeth grinding, badly worn down teeth, please consult your dentist immediately. 
For more information on Bruxism, Please contact our dental team at Heritage Dental Group Indooroopilly on 07 38783384.
WE PROMISE, "A GENTLE CARING DENTAL EXPERIENCE."
References:
https://www.teeth.org.au/teeth-grinding
https://www.betterhealth.vic.gov.au/health/conditionsandtreatments/sleep-apnoea