SAME DAY SINGLE VISIT DENTAL CROWNS AND BRIDGES INDOOROOPILLY
CEREC CAD CAM DENTAL CROWNS AND BRIDGES BRISBANE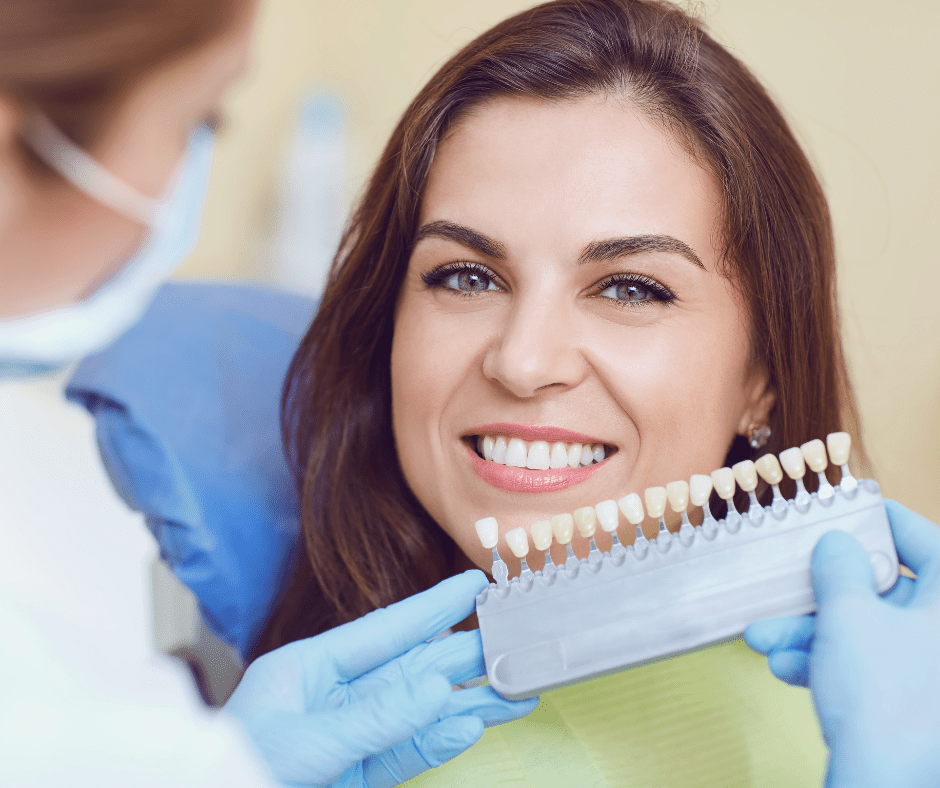 Dental Crowns are a custom-made restoration which fits over the prepared existing natural tooth and replaces the natural crown, which is the part of the tooth that is visible above the gums.
Dental Crowns can be used for strength, durability and tooth stability, or for cosmetic reasons to enhance the appearance of a tooth.
Crowns are often required when a tooth has been severely weakened and is no longer structurally sound. This can be as a result of trauma, tooth decay, previous root canal therapy or even general wear over time.
This cosmetic dental treatment can also be used to brighten and improve the appearance of your smile. Crowns can cover broken, chipped, stained or discoloured teeth by modifying the shape of a tooth.
---
WHY DO I NEED A DENTAL CROWN OR DENTAL BRIDGE?
Dental crowns are custom-made for each individual patient and can be matched to existing teeth making them a favourable cosmetic dental treatment option. Dental crown fits over the prepared existing natural tooth and replaces the natural crown, which is the part of the tooth that is visible above the gums. Dental crowns can be used for strength, durability and tooth stability, or for cosmetic reasons to enhance the appearance of a tooth.
Your Indooroopilly Dentist may recommend a crown for following reasons:
to restore fractured tooth
cover a dental implant
protect a week tooth from fracturing
cover a tooth that has had root canal treatment done
to attach a bridge 
replace a large filling when there is not enough tooth remaining
---
WHAT HAPPENS IF I DON'T GET A DENTAL CROWN?
If dental crown is not placed on a tooth with a large restoration or the tooth which has had root canal treatment done in the past, you are taking the risk of major dental work or loss of tooth. If the tooth cracks, fracture can extends to the roots and you can easily loose your tooth or consequently require more extensive and expensive dental treatment.
---
WHAT'S INVOLVED IN CREATING DENTAL CROWNS?
Constructing a Dental crown generally requires one appointment at Heritage Dental Group Indooroopilly.
CEREC CADCAM – One Visit or One Appointment Dentistry!
---
WHAT IS CEREC CAD CAM?
With CEREC CAD CAM technology, crowns can be prepared, designed, constructed and permanently bonded in just one appointment. The crown constructing process with CEREC involves preparing the tooth, taking 3D Scan and then having a custom made ceramic restoration on the same day.
CEREC stands for Chairside Economical Restoration of Aesthetic Ceramics.
CAD stands for Computer aided design.
CAM stands for Computer aided manufacture.
Esthetic ceramic crowns or partial crowns in a single session.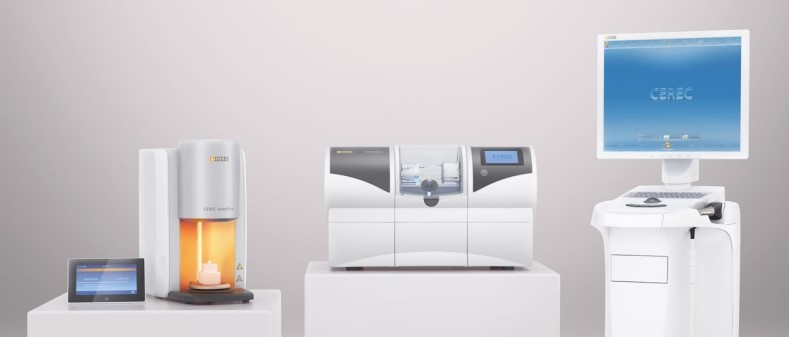 CEREC is our latest in dental technology. This computer based technology combines 3D Imaging, CADCAM softwares programmes and a milling grinding machine to create toothlike restorations with incredible efficiency, precision and speed.
At Heritage Dental Group, with this advanced state of the art technology, we are able to construct restorations like crowns within our own premises while you are still in the dental chair. Contact us to discuss same day crown and veneer on 38783384.
---
WHAT ARE THE BENEFITS OF CEREC CAD CAM TECHNOLOGY?
No unpleasant impression material
Cost effective for repairing teeth
Single Visit/appointment- No multiple visits
Efficiency and Precision
No bothersome temporary restoration
CEREC uses stronger materials and techniques
---
HOW DOES CEREC CAD CAM WORK?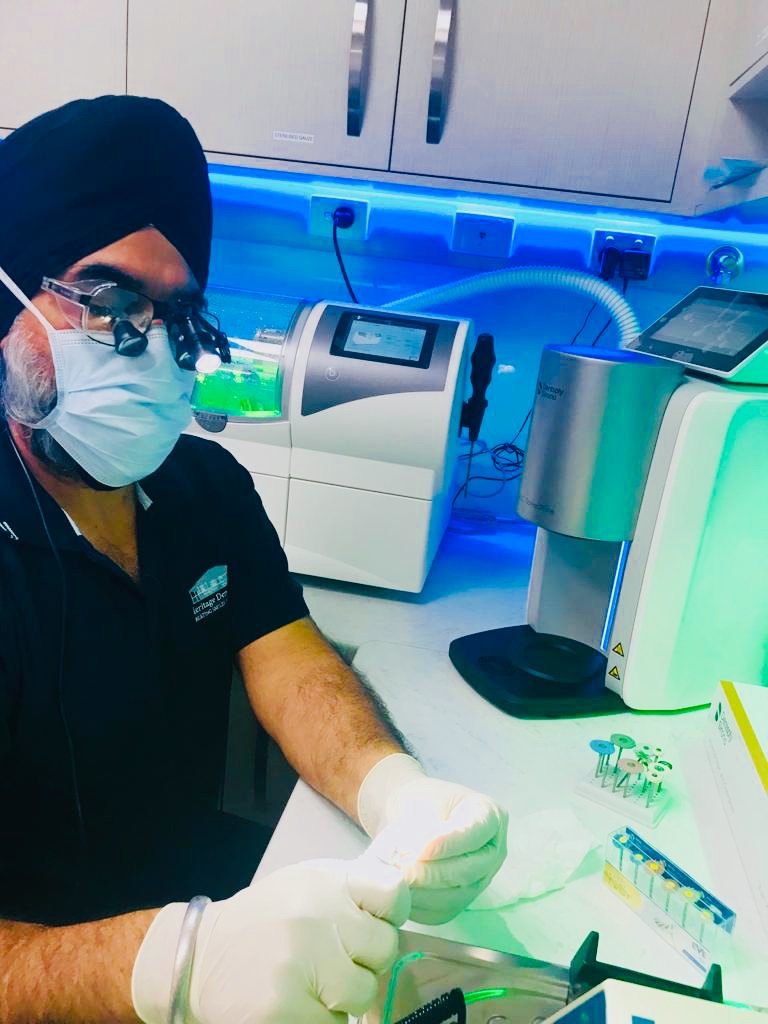 Once your tooth is prepared for crown, the dentist will take digital impression with 3D Omnicam.
The dentist will then design and finalize the restoration, which will be transmitted wirelessley to the CADCAM milling machine that will precisely make the restoration from porcelain or ceramic blocks. The whole process is monitored by the dentist to ensure quality and efficiency at all times.
The new crown is adjusted and cemented into place, providing a more long-term natural looking aesthetic solution.
Dental crowns can be constructed from a range of materials. Your dentist will discuss which material will be most appropriate for your individual situation.
The cost of dental crowns does vary depending on the type of crown required. Your Dentist will be able to provide you with a fee estimate prior to completing any treatment.
CEREC MILLING MACHINE IN ACTION
---
HOW TO LOOK AFTER YOUR CROWN OR BRIDGEWORK?
It is really important to look after your crown and bridgework so that it can stay in a good condition for years. Here are few tips to look after your crown and bridge:
Try not to chew bone, hard nuts etc. as you may damage your crown or bridgework.
Maintain good oral hygiene, you still need to clean in-between your teeth. Dr Singh will show you how to clean your bridgework after inserting the bridge.
If you grind your teeth at night, make sure to inform Dr Singh as you may need dental splint to wear at night-time.
Avoid using teeth as tools ( e.g.to open up packaging)
You should see your dentist for your recall examination every 6-12 months.
---
HOW MUCH DENTAL CROWN COSTS?
Dental crown cost from $1500-$1800.
---
For more information on  Same Day Dental Crowns, please contact us on 38783384. We would love to hear from you!