MEDICARE CHILD DENTAL BENEFIT SCHEDULE 
CHILDREN'S GENTLE DENTIST – BRISBANE WESTERN SUBURB
WHAT IS MEDICARE CHILD DENTAL BENEFIT SCHEDULE?
At Heritage Dental Group Indooroopilly, our experienced dental team provides general dental services for children. Our team believes prevention is better than cure. Educating and training children in good oral hygiene from an early age is really important for healthy teeth and gums. Dr Singh recommends seeing dentist regularly for prevention of dental decay, checking children's dental care routine and any issues at an early stage and taking steps to prevent.
Dental Treatment for eligible kids under Child Dental Benefit Schedule is bulk billed, means no out of pocket expenses.
We recommend six monthly dental check-ups for all kids. Our Gentle Experienced dentist will show your kids how to brush and floss properly.
Kids also receive Free dental care kit to keep their teeth clean and healthy:)
Kids sometimes feel nervous when it comes to visiting a dentist. At Heritage Dental Group, our team strives to make your child's dental visit as fun and educating as possible.
WHEN IS THE RIGHT TIME FOR MY CHILD TO SEE THE DENTIST?
The most important thing with kids oral health and dental visits is to start early. Be it is seeing a Dentist or getting into the routine of proper brushing and flossing techniques. As soon as your baby's first teeth erupt, schedule an appointment with your dentist. This is the perfect time for you and your child to get to know your dentist and start on early brushing and oral hygiene habits. Make sure you watch your kids brush and floss and talk to them about good oral hygiene. Once they start reading, get them some interesting books about dentists and the benefits of proper brushing and flossing.
PROPER TEETH BRUSHING TECHNIQUES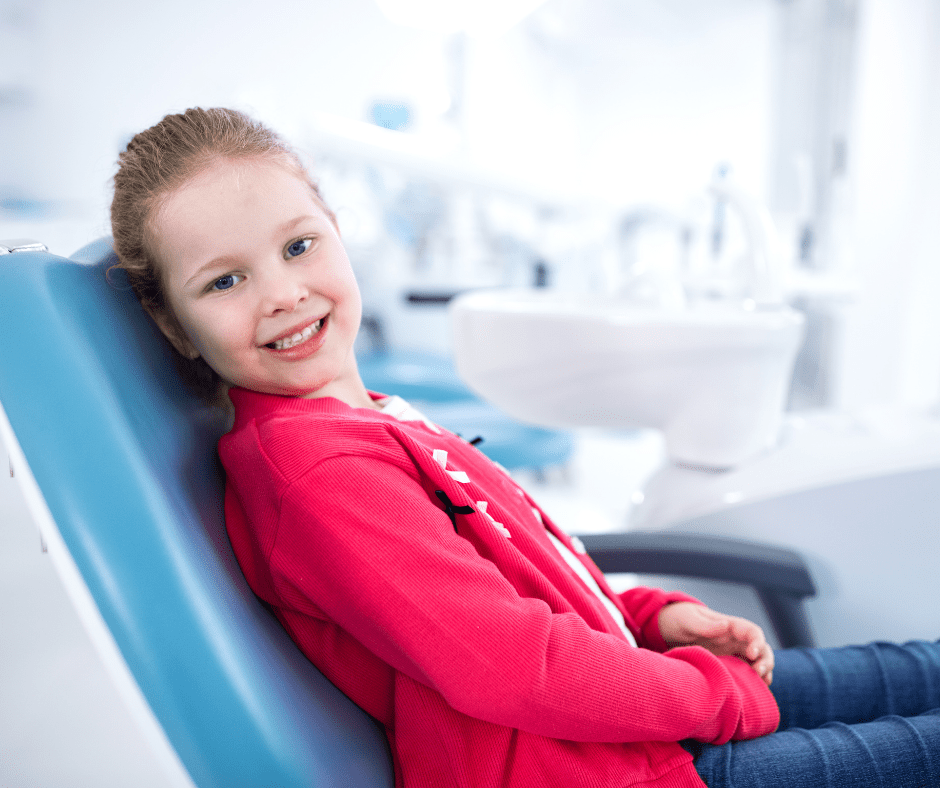 It is extremely important to keep an eye on your kids brushing techniques to make sure they brushing all the teeth, not just the front and reaching all the way to the back molars. Introducing flossing is also important to prevent decay in between teeth. We know, it is not easy for kids to floss but as parents and dental professionals, we should always reinforce the importance of flossing, by showing them proper technique. Our dentists at Heritage Dental Group always show children and their parents the proper techniques of brushing and flossing.
BE POSITIVE WHEN EXPLAINING DENTAL HEALTH
Always try to talk to kids and reinforce positive outcomes of a dental visit like checking that your teeth and gums are healthy, checking the number of baby teeth or adult teeth and making sure they have a healthy smile.
Our Dental practice in Indooroopilly, always strives to make your child's dental visit informative, comfortable and full of fun.
With an early start to oral hygiene and dental visit, you are giving your child the best possible chance to maintain a healthy beautiful smile for life.
WHO IS ELIGIBLE FOR CHILD DENTAL BENEFIT SCHEME?
Children between the ages of 2-17 if eligible
HOW TO FIND OUT ABOUT YOUR CHILD'S ELIGIBILTY FOR MEDICARE CHILD DENTAL BENEFIT SCHEME?
By logging in to your Medicare account online at mygov.com.au
By calling the MEDICARE general enquiries line on 132011
By contacting us on 38783384 and we will find it out for you.
WHAT DENTAL TREATMENT DOES MEDICARE CHILD DENTAL BENEFIT COVERS?
At Heritage Dental Group, we offer the following treatments covered by the Child Dental Benefit Scheme:
Dental Check-ups
Teeth cleaning
X-Rays
Fillings
Fluoride treatment
Fissure Sealant
Extractions
Root Canal Treatment
CONTACT OUR TEAM ON 07 38783384 FOR MORE INFORMATION OR VISIT US AT 410 MOGGILL ROAD INDOOROOPILLY
WE PROMISE "A GENTLE CARING DENTAL EXPERIENCE."